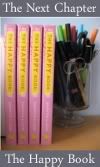 Today is the official launch of Jamie Ridler's,
The Next Chapter - Happy Book Mail Around
and I'm really excited that I'm going to be a part of this fun!
This is the first time I've taken part in a mail-swap or round robin creative project like this. Four copies of "
The Happy Book
" were put in the mail today to start off the mail around. There are 104 of us taking part in this, and we've been divided up into 4 groups. I'm part of the "Bliss" group. When you get the book, you have a week to look at what others have put in the book and then add your own bit of "happy" to it. Then you mail it on to the next person on the list. Since I'm #18 on the list, I figure it'll be a few months before it arrives here! But every Friday, I'll be checking the blog to see where the book is at, and sharing here a little of what made me happy this week.
So, here's my first Friday Happy post:
One of the things that made me really happy this week, also ties into "Way of the Monk - Week Two"! In my gazebo, I created a snow spiral - a small winding path that I can walk and pray with. My gazebo is one of my favorite spots in the yard, and since it is winter it has not been getting a lot of use. Now I have the spiral!
And that's a little piece of happiness from me this Friday! * o